Poet, writer, experimental artist and literary translator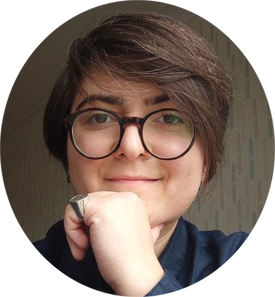 Biography:
Leyli Salayeva was born on October 4, 1985 in Baku. She received a bachelor's degree at Azerbaijan University of Languages. She holds a bachelor's degree in English Linguistics from the Azerbaijan University of Languages and Master of Business Administration (MBA) in Productions & Operations Management from Azerbaijan State Oil Academy. She has also completed course on poetry at the London School of Journalism, participated in the poetry workshop of California Institute of the Arts and completed course on Modern & Contemporary American Poetry at the University of Pennsylvania.
Leyli is the author of 5 poetry books and 1 book for children. Her poems and articles have been published in numerous literature journals in the UK, Poland, Canada, Russia, Australia and USA. Leyli's collaborative works with local & international artists were exhibited in The Poetry Society UK, Triumph Gallery Moscow, Yay Gallery Baku, Tbilisi Art Fair, etc.
Her second poetry book "Youtopia" received Honorable Mention at the 2016 London Book Festival. The children's book "Dilber and Her Spoonful Journey " was awarded 2nd place in the XIII International Competition among The Commonwealth of Independent States (CIS) Countries "Art of the book".
On November 13, 2021, the animation project called "The Last Feather" together with Firangiz Bagirova was awarded the first place at the "Animated Film Project Pitching" workshop during the First International Animation Conference held in Georgia.
Leyli is a member of Azerbaijan Writers Union and The Poetry Society, UK.
Links:
Leyli Salayeva – Instagram
Leyli Salayeva – Facebook
Leyli Salayeva – Website
Filmography:
"The last feather" animated short film, pre-production – author of the idea and the poem
"Turandokht. Radio Riddles" (2019) sound installation – script writer
"Mirror" (2019) video art – author of the poem
"Bullet words" (2019) video art – author of the poem
"To the unknown" (2018) short animation video – script writer
"Destiny" (2018) video art – author of the poem
"Within" (2018) video art/performance – script writer
"Men only (Women be not ashamed)" (2017) video art – author of the poem
"Vertigo" (2017) sound installation – script writer