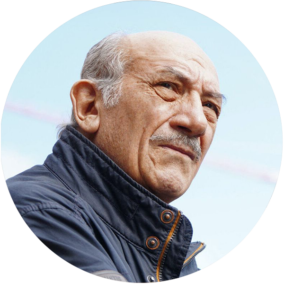 Director, artist, animator, screenwriter, writer
Biography:
Masud Panahi was born on January 10, 1943 in Zanjan, Iran. Writer and poet Abbas Panahi Makulu was his father. In 1946, Panahi moved to Baku with his family.
Panahi graduated from Azim Azimzade Art School in 1966. In 1972, he graduated from the All-Union State Institute of Cinematography (VGIK) and attended there  the courses on directing animation. Masud Panahi took lessons from Ivan Ivanov-Vanoand Fyodor Khitruk, directors of animation cinema.
From 1973 to 1979, he worked as a director and artist of animated films at the Azerbaijanfilm film studio named after Jafar Jabbarli. During those years, he organized several animation courses and trained dozens of animation specialists.
In 1974, at the VII All-Union Festival held in Baku, he was awarded the 1st prize for the Why is the Cloud Crying? In 1979, he was awarded a diploma of participation in the XII All-Union Film Festival held in Ashgabat for the The Legend of the Maiden Tower.
He lives in Germany since 1979. He took part in the filming of about 60 animated films at Berlin Central Television Studio and various animation studios. One of M. Panaсhi's latest works is the animated film Breaking the Silence (Zerstörter Friede), which was shot in 2012 with the support of the Azerbaijani diaspora in Berlin and tells the story of the tragedy that happened in the city of Khojaly.
In 2018, Masud Panaсhi was awarded the Golden Boat Award of the 1st ANIMAFILM International Animation Festival "for his contribution to Azerbaijan animation". In 2019, he was the chairperson of the international jury of that festival.
In 2020, Masud Panaсhi's autobiographical book Rubber Rooster was published in Berlin, Germany. He is a member of Azerbaijan Animation Association since 2022.
Filmography (films shot in Azerbaijan):
Why is the Сloud Сrying? (1973) – director, set designer, screenwriter
Pyspisa Khanum and Mouse Bey (1974) – director, set designer
One day… (1975) – director, set designer, screenwriter
Claw… Ear… Carpet… Thorn… (1976) – director, set designer
Play, My Saz, Play (1976) – director, set designer
The King and the Servant (film, 1976) – set designer
Rooster (film, 1977) – director, set designer, screenwriter
The Legend of the Maiden Tower (film, 1978) – director
Filmography (films shot in Germany):
House (1980, short animation film) – director, set designer
The Story of Kitchen Utensils (1981-1982, animated series) – director of 6 series
The Shoe Thief (1982, short animated film) – director, production designer
The Quarrel of Animals in the Zoo (1982-1983, animated series) – director of 7 episodes
Max and Maurice (1983, animated series) – director and set designer of 7 episodes
Cockfight (1984, short animated film) – director, set designer, animator
Cloudy, Blue (1984, short animation film) – director, set designer, animator
Eastern Tales (1985, animated series) – director and set designer of 3 episodes
Invisible Hat (1987-1989, animated series) – director, production designer of 26 episodes
The Last Apple (1989, short animated film) – director, set designer
Grandson of Santa Claus (1989, short animated film) – director, production designer
Donky (1993, animated series) – director, production designer and animator of 1 episode
The Three Musketeers (1994, short animated film) – director
Tobias and His Lion (1999, full-length animated film) – animator
The Little Polar Bear (2001, full-length animated film) – animator
The Little Polar Bear: Lars and the Little Tiger (2002, animated feature) – animator, visual effects
The Little Polar Bear: The Dream of Flying (2003, animated feature) – animator, visual effects
The Little Polar Bear – Nanouk's Rescue (2003, animated feature) – animator, visual effects
The Little Polar Bear: A Visitor from the South Pole (2004, animated feature) – animator, visual effects
"Broken peace" (2012, short animation film) – director, set designer